Medical checklist is the use of a checklist within hospitals, surgery and nursing.
Surgery is a high-risk process and a checklist ensures that surgical teams adhere to standard operating procedures. Used as a guide through complicated procedures that require accurate task completion to prevent infection.
Maximise the use of checklists to save lives and help prevent avoidable deaths and disabilities during surgery and patient recovery.
Ready to dive in?
Start Your Free Trial Today
Medical Checklist
The medical checklist can reduce infection and reduce deaths.
Absurdly Simple but has a staggering impact on results and survival rates.
World Health Organization (WHO) devised a Safe Surgery initiative which is a surgical checklist designed to save lives by ensuring that surgical team follow a to standard operating procedures to reduce risk.
Millions of major operations take place every year around the world. Millions of patients suffer infections after surgery, injuries, and other preventable medical complications. These surgeries result in over 1 million deaths per year.
Dr. Peter Pronovost
Dr. Peter Pronovost – Created a simple 5 step checklist protocol that
would greatly reduce infections when inserting a central line venous catheter. These mandatory steps help eliminate infections from catheter lines.
"We've shown with the checklist that we can take one problem and reduce it by 90 percent across the country," Pronovost says.
Central venous catheters, or lines, are used for medications, blood, fluids or nutrition. These can stay in for days, or weeks and bacteria can grow in the line. This spreads the infection to the bloodstream, which can cause death. This five-point simple checklist for doctors and nurses to use before inserting a line can prevent infection and reduce deaths.
The Pronovost Checklist
Wash Hands
With soap and water or alcohol cleanser
Wear Sterile Clothing
a mask, gloves, gown and hair covering – and cover the patient with a sterile drape, except for a very small hole where the line goes
Clean Patient's Skin
Use Chlorhexidine (type of soap) when the line is put in.
Avoid Veins in Arm and Leg
More likely to get infected than veins in the chest.
Check Line for Infection
Check each day and remove when no longer needed.
Additional Information Dr. Peter Pronovost
Peter Pronovost: champion of checklists in critical care
Three Years Out, Safety Checklist Continues To Keep Hospital Infections In Check
'Dr. Checklist' Peter Pronovost gets chance to transform University Hospitals
Dr. Elliott R. Haut – Blood Clot Prevention Checklist
Dr. Elliott R. Haut blood clot prevention checklist. Was designed as part of a computerised clinical decision support (CCDS) tool. This tool required the completion of checklists which helped evaluate VTE risk factors and contraindications to pharmacological prophylaxis. It then recommends the risk-appropriate VTE prophylaxis regimen.
Example below
VTE: Checklist Risk Factors & Prophylaxis Contraindication
VTE Risk Factor
Spinal Cord Injury
Lower Extremity Fracture
Pelvic Fracture
Severe Head Injury (AIS >2)
Injury Severity Score >8
Shock at Admission (SBP <90)
Surgical Procedure ( >30 mins)
Age >40
Femoral Venous Line Insertion
Prolonged Immobility
Prior DVT / PE
Prophylaxis Contraindications
High Risk of Bleeding
Traumatic Brain Injury
Solid Organ Injury
Pelvic / Retroperitoneal Hematoma
Ocular Injury with Hemorrhage
Active Bleeding
Systemic Anticoagulation
INR ≥1.5 or aPTT ratio ≥1.3
Platelet Count <50,000
Creates a secure link between a website and a visitor's browser.
Specific Contraindications to Enoxaparin
Indwelling Epidural Catheter
Creates a secure link between a website and a visitor's browser.
Renal Insufficiency (CrCl <30)
Creates a secure link between a website and a visitor's browser.
Abbreviations: AIS, abbreviated injury score; aPITT, activated partial thromboplastin time; CrCl, creatinine clearance: INR, international normalised ratio; PE, pulmonary embolism; SBP, systolic blood pressure; VTE, venous thromboembolism.
Eliminating Health Care Disparities With Mandatory Clinical Decision Support The Venous Thromboembolism (VTE) Example
Improved Prophylaxis and Decreased Rates of Preventable Harm With the Use of a Mandatory Computerized Clinical Decision Support Tool for Prophylaxis for Venous Thromboembolism in Trauma
A Different Strategy to Help Prevent VTE in Trauma Patients – Venous thromboembolism (VTE)—consisting of pulmonary embolism (PE) and DVT—is one of the most common and deadliest complications experienced by trauma patients admitted to hospitals.
Atul Gawande – WHO Surgical Safety Checklist
Atul Gawande the author of the checklist manifesto , who from his result has helped create and launch WHO a 19-item surgery checklist.
He published a great article in the New Yorker Magazine entitled The Checklist: If something so simple can transform intensive care, what else can it do? Explaining how something as simple as a checklist could be of huge benefit within medical care.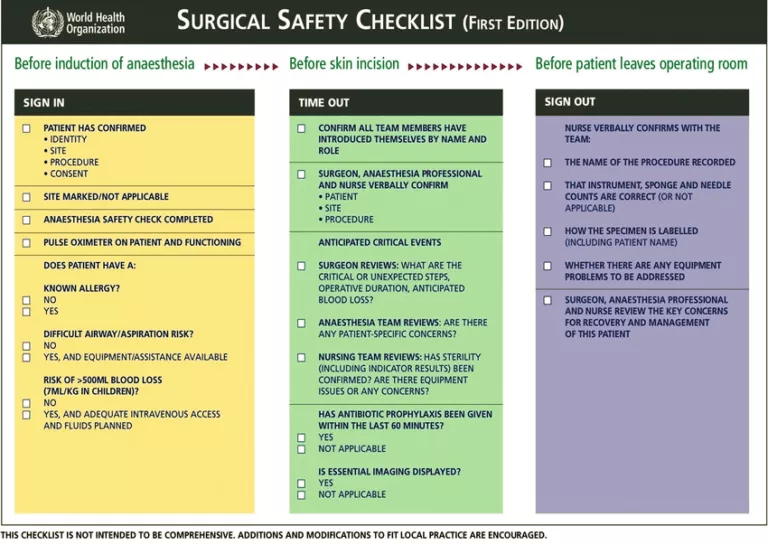 Research on Medical Checklists
Additional Research and Information on the power of Checklists
Patient Care Checklist: Checklists change communication about key elements of patient care.
Surgical Checklists: Preventing surgical mishaps: using surgical checklists.
Perioperative Checklist: Perioperative checklist methodologies.
Operating Room Checklist: Implementing checklists in the operating room.
Perioperative Checklist: Implementation of the Surgical Safety Checklist in South Carolina Hospitals Is Associated with Improvement in Perceived Perioperative Safety.
Operating Room Communication checklist: Do safety checklists improve teamwork and communication in the operating room?
Surgical Safety Checklist: Scaling Safety: The South Carolina Surgical Safety Checklist Experience.
Surgical Safety Checklist: Mortality Trends After a Voluntary Checklist-based Surgical Safety Collaborative.
Surgical Safety Checklist: Narrative feedback from OR personnel about the safety of their surgical practice before and after a surgical safety checklist intervention.
Surgical Safety Checklist: Impact of the World Health Organization Surgical Safety Checklist on Patient Safety.
Surgical Safety Checklist: Validation of a Norwegian version of SURgical PAtient Safety System (SURPASS) in combination with the World Health Organizations' Surgical Safety Checklist (WHO SSC).
Pediatric Surgical Safety Checklist: Operating Room Clinicians' Attitudes and Perceptions of a Pediatric Surgical Safety Checklist at 1 Institution.
Major Trauma: Qualitative study checklist
Neonatal Resuscitation Checklist: Checklists to facilitate team preparation and improve communication during neonatal resuscitation.
Delivery Room Checklists and Communication Standards in a Multi-Neonatal ICU Quality Improvement Collaborative.
Operating Room Checklist: Relationship Between Operating Room Teamwork, Contextual Factors, and Safety Checklist Performance.
Intensive Care Checklist: Implementation of a mandatory checklist of protocols and objectives improves compliance with a wide range of evidence-based intensive care unit practices.
There has been one recent piece of research that didn't see improvement in results with using a Central Venous Checklist: Safety Checklist Implementation Did Not Reduce Central Venous Catheter Duration in Pediatric Cardiac ICU Patients.