Right lets get out there and meet new people and listen to loads of people talk on business subjects. We are quite bad at sitting behind our desks in our own little bubble to remember there is a whole World out there and its not a waste of time to go out but can benefit our business.
The Festival of Enterprise in Birmingham 2019 covered a number of topics from funding, marketing, business, startups and scale ups. Will we be out of our depth?
Ready to dive in?
Start Your Free Trial Today
Roderick Beer – How to Secure Funding for your Startup​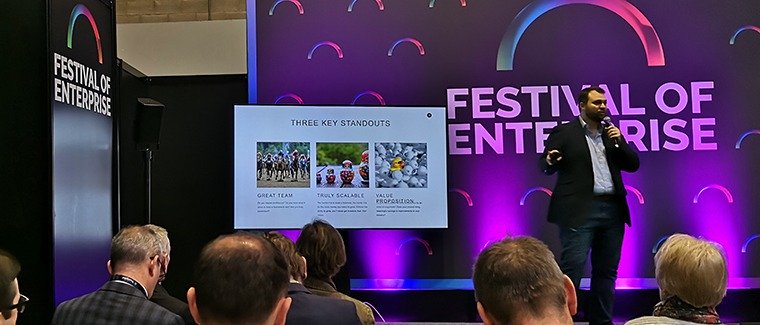 First Seminar how to secure funding for your startup by Roderick Beer managing director of UK Business Angels Association.
Explaining the investment landscape from startup
We have all heard the word business "angels" but how do they fit into your new startup? What do they bring to the business is it just cash? What was really exciting to hear is that angels support investments like re-invest, Introductions, Advise or leave you alone.
Something we were very unaware of is the government support for investors in the form of SEIS (Seed Enterprise Investment Scheme), EIS (Enterprise Investment Scheme) which is tax relief on investment to encourage early-stage funding.
Apparently business angels hunt in packs which made us smile but makes sense as can share costs and spread risk.
Three Key Points to Make You StartUp Stand Out.
Great Team – Do you inspire confidence? Do you have what it takes to build a business. Are you committed?
Scalability – Without the ability to scale you will find it hard to get investment.
Value of Proposition – Does you business bring savings or improvements to your industry?
Toolbox For Attracting Investors
Pitch – Summary of your business in less than 2 mins.
Deck – Story of your business. (lots of images)
Money – Profit & Loss and conservative Cashflow forecast.
Due Diligence – Evidence to back up everything. Team, product and business.
Jamie Waller – Unsexy Business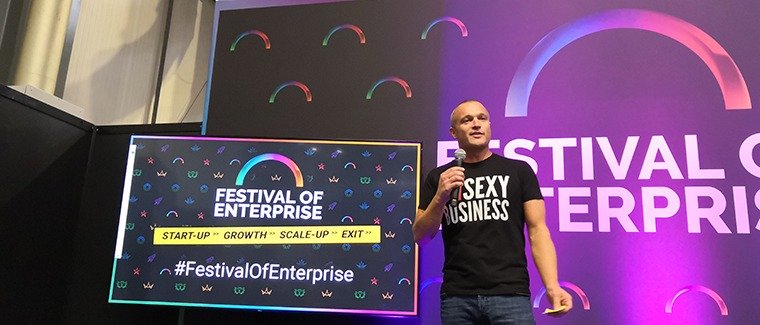 Next is the amazing Jamie Waller on learn how 12 entrepeneurs achieved extradinary scale-up success with ordinary businesses.
Jamie Waller is founder of the debt recovery company JBW Group and private equity firm Firestartr. He has written a great book called Unsexy Business interviewing 12 entrepreneurs and self-made multi-millionaire who started what people class as unsexy business like plumbing, beds, penny sweet shops.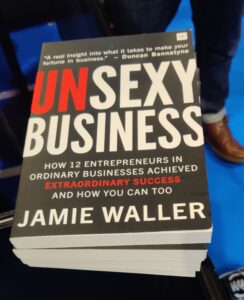 Such inspiring stories from genuine British business owners who provide items and services that are the back bone to the economy. Loads of tips, tricks and practical advice from successful people that make you realise you can bootstrap a business.
One thing that really made us think is the discussion on business partnerships to help accelerate and expand business.
Revealing lots of interesting secrets to success and we will now be reading the book and listening to his podcasts!
Louis Barnett – Deep Consumer Psychology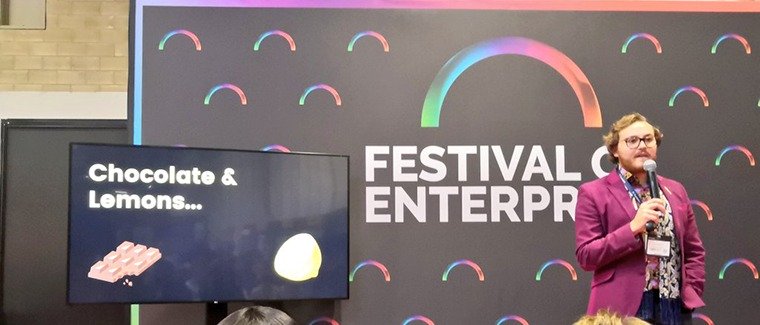 Next seminar was given by Louis Barnett of Fresh Lemon on deep consumer psychology to grow your business rapidly. Louis originally the youngest chocolatier at 14 years old to supplier Sainsburys and Waitrose supermarket chains with Chokolit.
Explaining traditional marketing has always been based on "us" and "them" mentality but it should be "us" "them" and "we".
Interesting quote he shared from Simon Sinek about brand is everything…
People don't buy what you do; they buy why you do it."
One important point made is being clear on your mission? Why, How and What. What pain points can you help resolve?
He finally moved onto how all five senses can be used in your marketing plan. Explaining how apple use a specially designed fragrance in stores and in product boxes. How the feeling your packaging or business cards can give to people. How colours can have an affect and important to look at colour psychology in your choice on branding.
Daniel Priestly – Entrepreneur Journey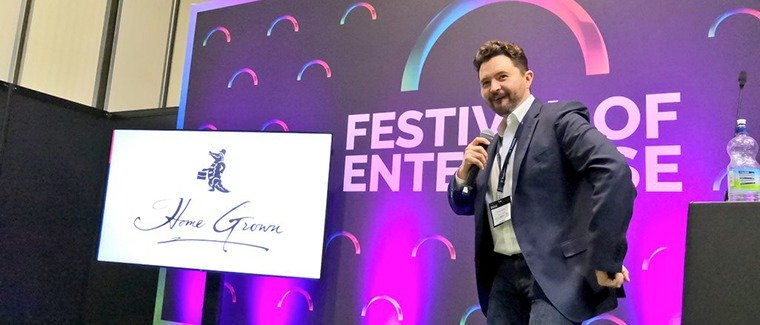 Back into the Funding Stage to listen to Daniel Priestly of Dent Global and author of Key Person of Influence.
Explanation of the entrepreneur journey from concept into the wilderness, lifestyle boutique and then into the desert.
Moving onto talking about 12 people within a company is the optimal size for growth and shared an example that 50 people = 1225 lines of communications.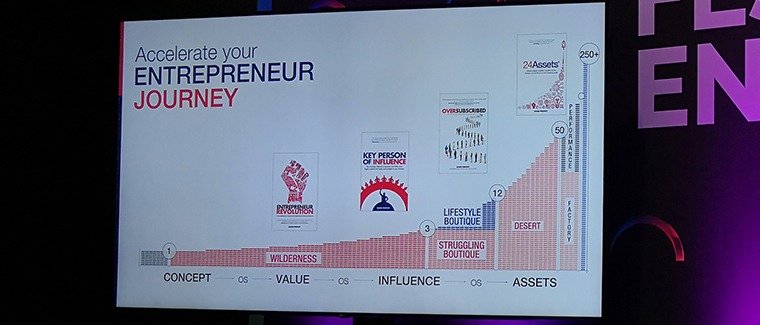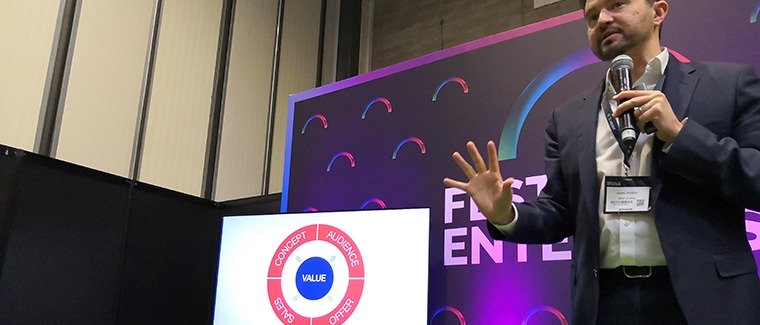 Google – Make Smarter Business Decisions with Machine Learning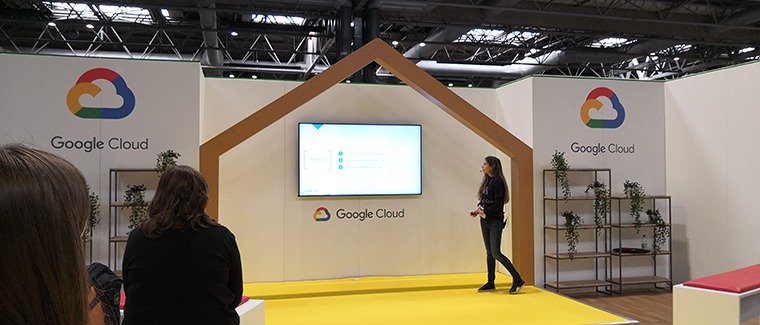 Google talk about enabling Business to make smarter decisions with machine learning.
Day Two – Festival of Enterprise
Spent the evening discussing what had been discussed in each seminar yesterday. Making checklists of things we feel we need to do to move forward with the business.
Jayne Chace – Creating a Marketing Strategy For Growth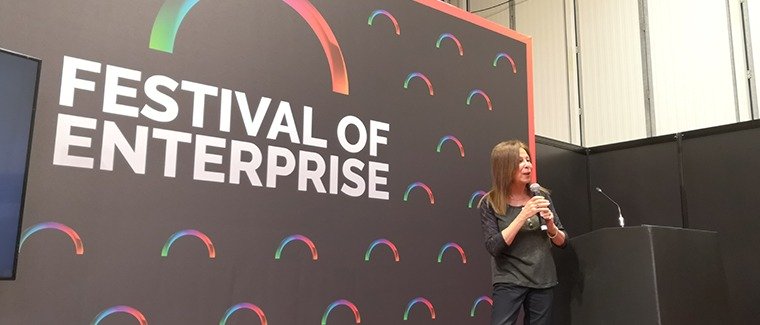 Jayne Chace of Citicourt & Co talk on creating a marketing and social media strategy for growth. Starting with asking yourself key questions:
What: What is the essence of your business? What problem or gap will you be solving?
Who: Who are your target audience? Why would they choose your product over your competition? Who are your competition? How can you be different and potentially fill a bigger gap in the market.
Value Proposition: Why are you unique? What benefits do you offer? How will you sell?
Growth Proposition: Do you have right skill sets? Is the business scalable and potential to go Global? Vision for the business?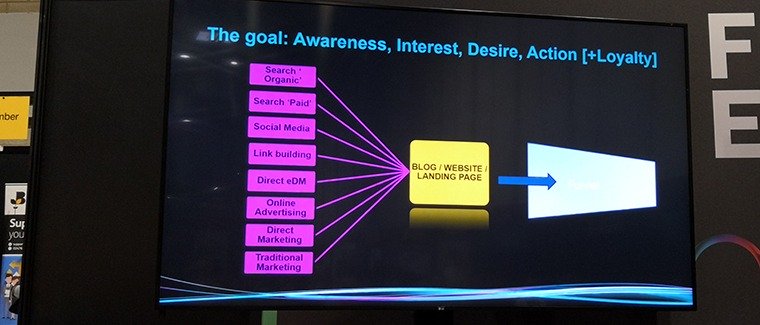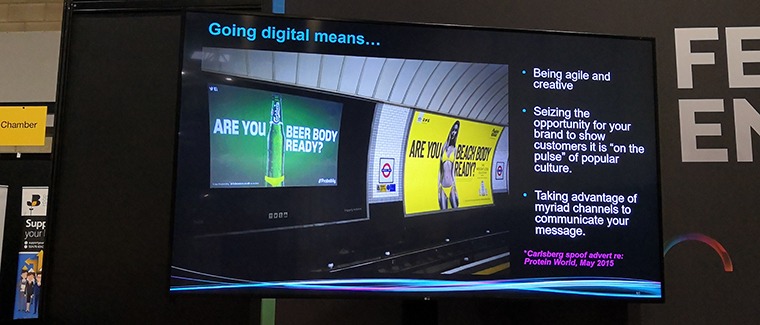 Dr Adrian Burden – Raising funds from start to exit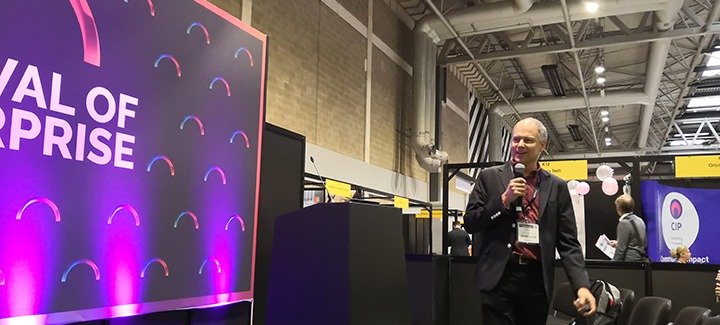 Dr Adrian Burden technology entrepreneur and author of Start To Exit talk on Raising funds from start to exit.
Understanding how the business share ownership is broken up into pieces of pie as each round of funding takes place.
Capitalisation table gives you a view of a company's percentages of ownership. How equity dilution, value has happened through each round of investment from founders, friends & family, and investors.
Key Investment Terms to Understand
Future-Price Floor – Account the storage costs of a commodity.
Preference Shares – Many of the benefits of both debt and equity capital
Tag-along Rights – Contractual obligations to protect a minority shareholder like venture capital deal.
Drag-along Rights – Enables majority shareholder to force a minority shareholder in the sale of company.
Pre-emption Rights – Right of first refusal over the issue of new shares
Anti-Dilution Rights – Gives a investor the right to maintain his or her percentage.
Put Option – Sell assets at agreed price on or before a particular date.
Call Option – Buy assets at an agreed price on or before a particular date
A down-round – Offering additional shares for sale at a lower price than sold in a previous financing round.
Emil Kristoffer Lie – LinkedIn The Future of Work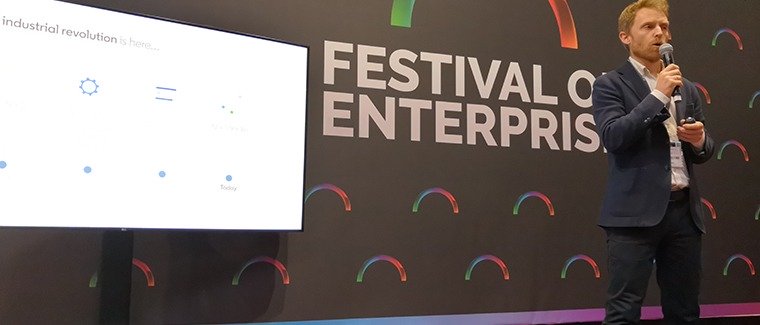 Emil Kristoffer Lie – LinkedIn The Future of Work.
The World is evolving – Data and technology is disruting everything like big data, AI Automation, Internet and 3D printing.
Automation is transforming workforce which is only accelerating and transforming businesses once being accepted.
Understand technologies your business already uses. Master current technologies to become an effective early adopter when AI becomes available within your industry.
Amazing fact is that 65% of the jobs that recruiters will be recruiting for in the future doesn't even exist today!
The most memorable image of the talk was that of how radar job has changed over time.
Jo Rogers – Build Your Business For Exit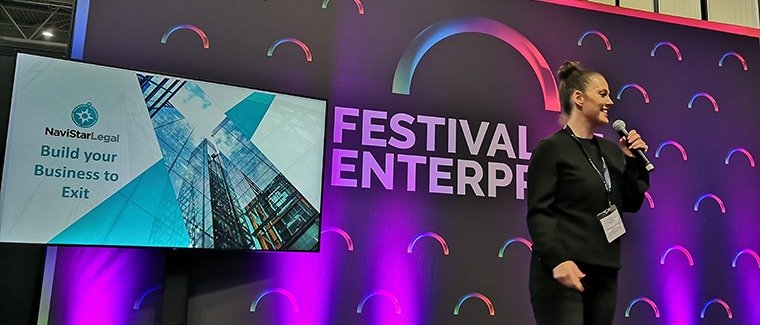 Bumped into the lovely Jo Rogers from Navistar Legal in the hotel this morning. Next was her talk on Building Your Business For Exit. As all business owners exit their businesses in the end! Make sure it's on the best possible terms.
Exit is inevitable! Failure Is not planning for it, documenting it and deciding on objectives for a successful exit from your business.
Exit strategy can increase your sale price so it's important for succession planning.
Hugo Lough – Pitch Perfect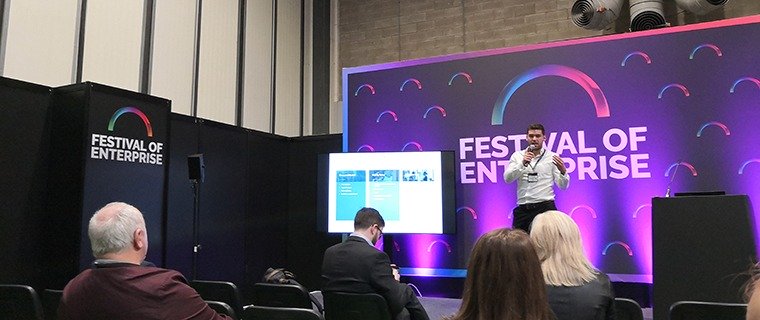 Hugo Lough from FinnCap talk on pitche perfect – how to hone your elevator pitch and what is the best fundraising option for you.
Getting everything together like financials, business story and what you want from an investor.
What makes your company interesting and special to an investor? How do you intend to spend the money being invested?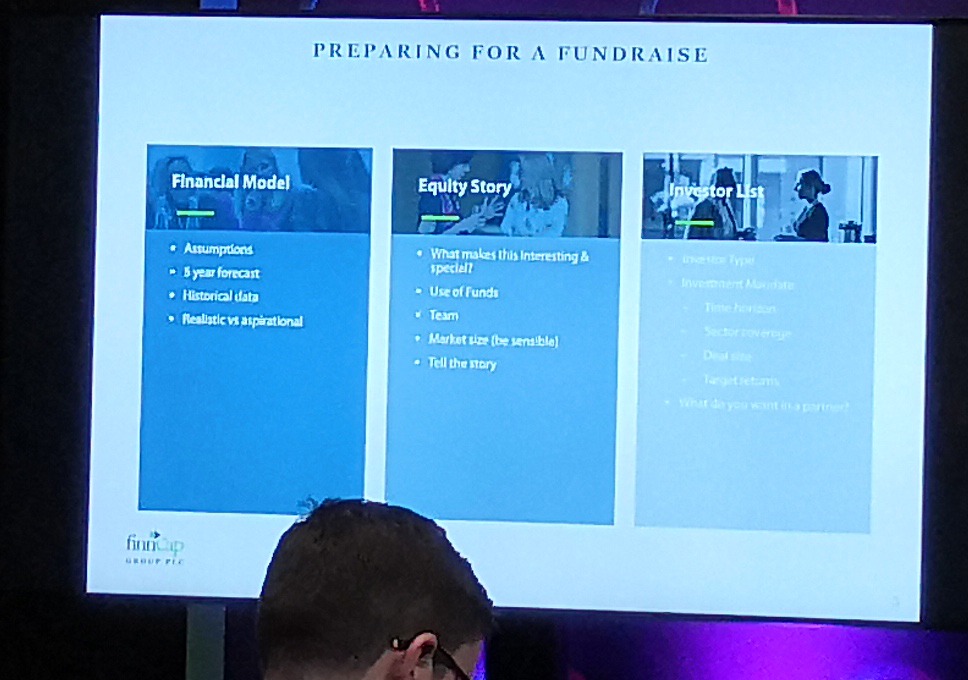 Andy Barr – Using PR for SEO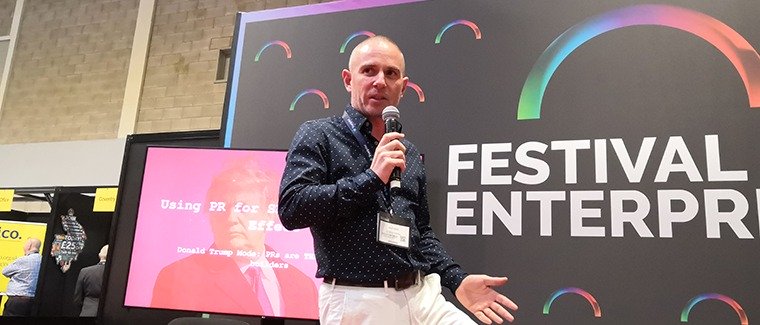 Andy Barr of 10 Yetis talk on usinf PR for SEO.
Get links from "authority" websites back to your website. It is Google who decides which websites have "authority"
Myths / Fake News
Google understands positive / negative sentiment.
Content must relate back to what you do.
Positive v Negative
Examples: Protein Worlds "Are you beach boady ready?" 145 authority link backs.
Also Cecil lion killer dentists gets 170 links back :-(
What helps make good links?
Widgets / Calculators
Concept Images
Regional Comparisons
Reactives
Make sure this content is easily embeddable into other people content.
Create website content that gives you multiple opportunities. Pack the page with other points like sign up newsletter, best selling products or other links to key pages.
Traditional PR
Go to Wires First, PA, Solent, Caters, SWNS, Sky news online.
What are the next steps for Checkify?
Number one thing we MUST come up with a brief pitch / explanation / summary of our business.
We couldn't explain simply what we do. It sounds strange but we know what it does and understand the concept of business process management
Website
We must get it sorted!
Marketing
Colours – Stand out from the crowd
Partnerships
Find partners
Funding
Funding has always been a maybe or far too scary thing for us to be considering. Why would people be interested in investing in us? Well I think what we have learnt is we do have a business that can expand and fit into most investor criteria.
From meeting the amazing Jo Rogers and he explanation that investors can add Kudos to a business and bring many new contacts.