The ultimate goal for any business is to achieve maximum success. This applies whether you're the sole owner of a dog walking business, small business, SME's or a huge manufacturing business with many people sitting on the board.
If you want to achieve this goal, several steps will have to be followed, and this is a business process.
In this short article, we're going to look closely at the business process. You'll learn about the different types, which are the most valuable, and why the business process is important. We're also going to share some business process examples, so you can get a better idea of how they work.
Ready to dive in?
Start Your Free Trial Today
What is Business Process?
A business process includes a combination of interlinked steps. Think of it as a checklist of best practices and methods how to run your business.
Each step will be assigned to a specific person, and the ultimate goal is to deliver a service or product to the customer.
To be most effective, the task should be assigned to the person who is most capable. It's possible for the steps to be repeated over and over again and actioned by several people in an optimized and standard way.
Why Business Process is Important
Business processes are important because they are a step by step guide that describes how things are done the best possible way and makes it easier to focus on improving business processes.
Business processes have a vital role to play in the efficient and effective functioning of the organisation and structure. Why business process is important? If a business process is well-planned and strategic, it will help in the following ways:
Reduced risk and expenditure: A business process lays out the most efficient way to do a job, taking into account future shortcomings. This reduces risk and expense.
Reduced human error: Tasks are given to people who are more capable, thereby reducing the risk of human error.
Improved efficiency: Moves and relevant steps are clearly mapped out, which enhances productivity.
Collaboration – Working together as a team in a process and optimising the way the business works.
Improved customer focus: A business process continuously updates your company with information relating to the needs of the customer and reviews about the service or product they receive.
Effective communication: Using market research and reviews, you can communicate much better with the customer.
Improved time management: Certain activities can be done more efficiently thanks to the development of strategies and flowcharts.
Ability to adapt to new technology: Business processes can be improved by taking advantage of the latest technologies.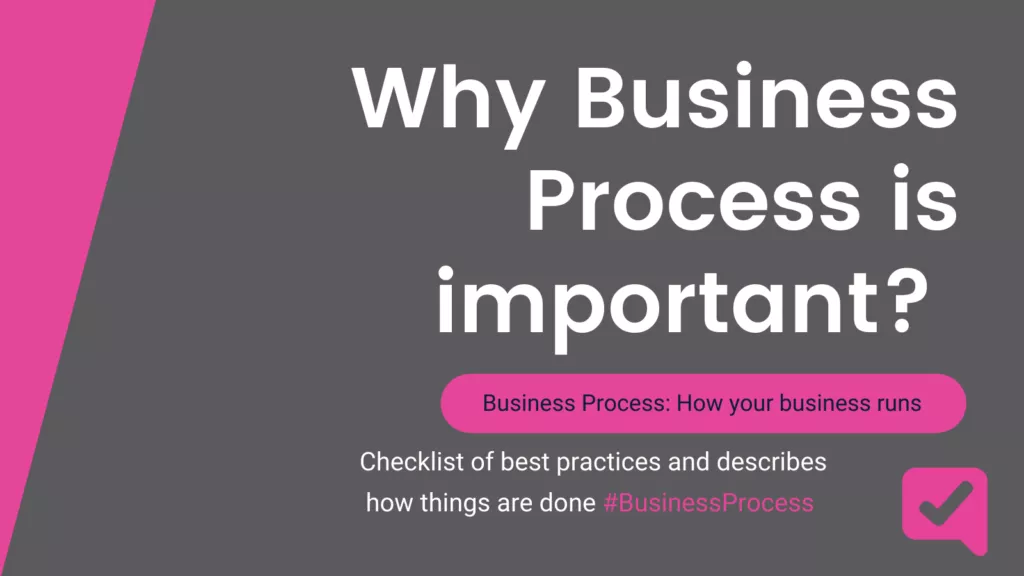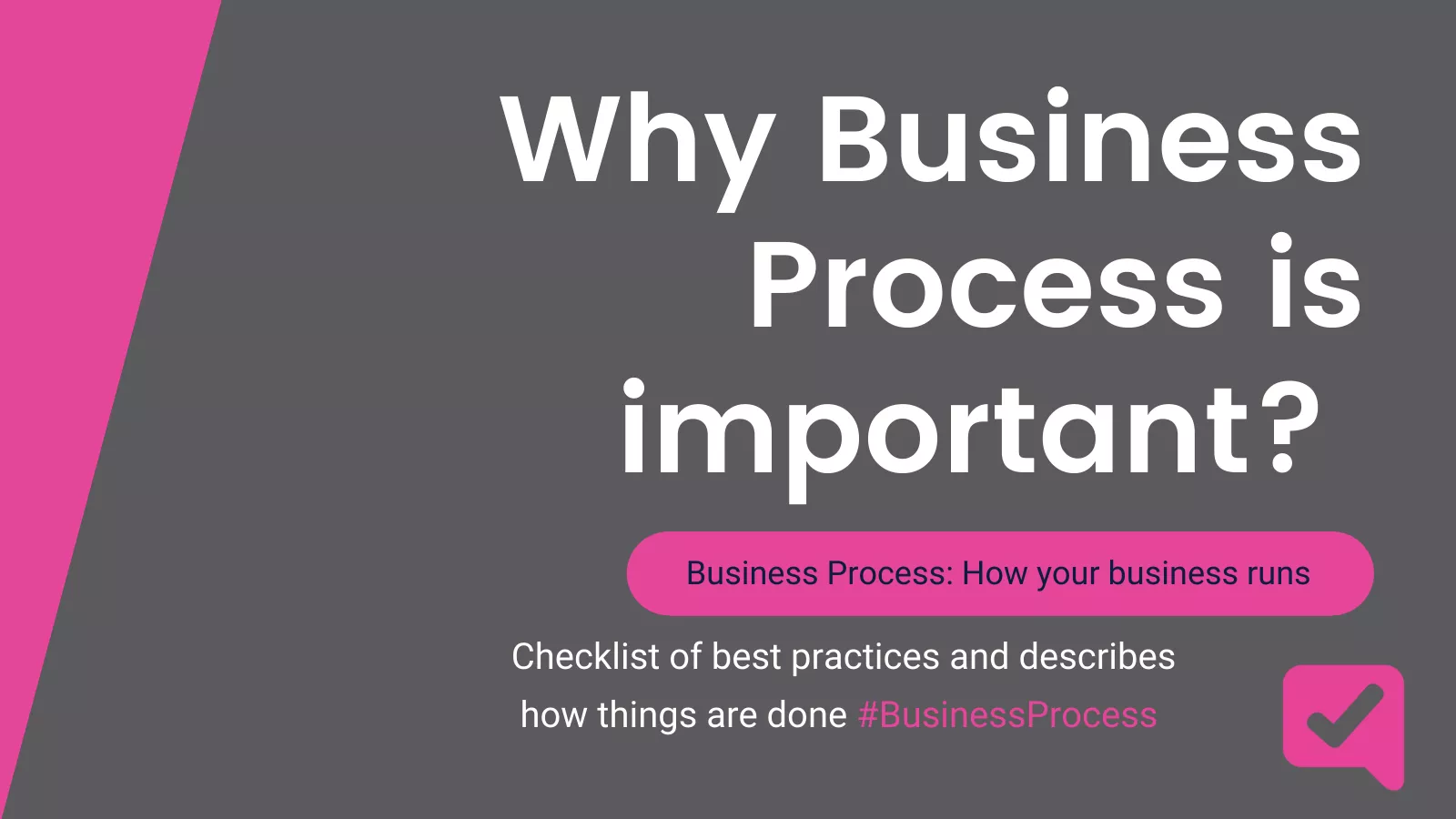 Different Types of Business Process Design
There are basically three different types of business process design.
Primary processes: These are the most fundamental type of process and are the way via which a company delivers its end product to customers. Every step adds value to the end product.
Support processes: These processes don't add value, as such, but they do allow the primary processes to operate effectively and efficiently. They also support an organization's everyday operations.
Management processes: These are processes that govern corporate governance, strategic management, and operations. They set the standards and goals that ensure the effective and efficient working of the other two business processes. These processes also include an element of control and monitoring of different processes in the business.
Business Process Examples
There are many business process examples commonly used by different companies and organisations. They include the following top ten:
Customer Success Processes: Customer relationships and strategy
HR Processes: Employment satisfaction and development
Management responsibility
Change management, quality, and process improvement
Capital management, reporting, and financial analysis
Product development Process
Customer acquisition and Sales Channel
Sales and Marketing Processes
Customer Success Process
Financial Processes: Accounting management
Service/product delivery
IT Processes: Technology management
All these are essential in running your business and why the business process is important?
What is the Most Important Business Process?
Several business processes are essential for the efficient running of your business, regardless of its size, location, or industry.
Unfortunately, this makes determining what is the most important business process impossible to answer but there are few core business processes that all businesses need.
Sales & Marketing Processes: How you get new customers/ clients?
Quality Control & Delivery Processes: How do you ensure the best level of service or high standards in production?
IT and Technology Processes: What technologies do you rely on to run the business?
Administrative and Human Resources Processes: How do you organise personnel and resources?
Finance & Accounting: How do you get money in (invoicing) and pay bills like suppliers or taxes?
Customer Success Processes: How do you keep your customers happy?
What makes a good process?
Now you understand why the business process is important it is also important to understand what makes a good business process.
What is more critical is to have well-designed business processes if you want to set your teams on the right road to success.
What makes a good process?
Simple Processes: Make them as simple as possible to help avoid errors in execution. Complexity in processes make it difficult to follow and hard to inspect, analyse and control.
Documented Processes: Documentation captures the best way to complete things a standard for process control. Without documentation process becomes more tribal knowledge or tacit knowledge.
Controlled Processes: Process control so every process can be executed in a controlled way. Controlled processes mean it is easier to be improved.
Collaboration and Communication: Everyone involved in a process should be aware of how a process runs and their role within the process.
Error-Proofing Process: Stop errors and mistakes from occurring. Identify if indicators, signs, or error-proofing techniques like poke yoke, if you use Lean Methodologies  or six sigma should be implemented.
Business Process Management
Now we have explained why Business Process is important let's talk about how you can manage business processes.
This can be done with a piece of paper and a pen, word documents, spreadsheets or using the power of technology.
Business process management is a way of managing business processes using technology. Enabling you to use on both desktops when office-based and when mobile working using a business process management app on your mobile.
Checkify is a business process management software using the power of a simple checklist for everyone to have a step by step guide on how to best complete a task.
Checkify BPM Software allows you to create a detailed guide for all team members to follow to get you the best results possible.
Checkify allows you to allocate to the best team member to complete a task, ability to set that someone needs to sign off work, set dates enable you to focus on priority work and make your workflow more productive.
Task management Checkify also offers the ability to add individual one-off tasks because every business has one-off ad hoc tasks that need doing as well as processes.
With business processes in place, everyone will be clear about their responsibilities and roles, increase productivity with workflow management and make them better able to work with a vision towards the ultimate business goal.